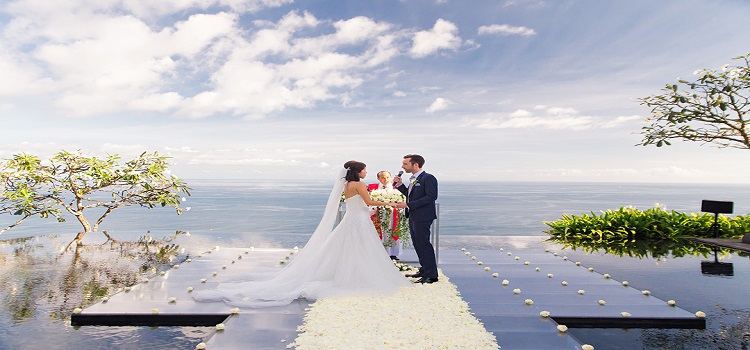 Your wedding day is a few hours of your life which should be memorable and unforgettable, and one of the many ways that can be achieved is by moving your wedding to an exotic location. There are many of these around the world, but there can few which offer as much as Bali. This exotic Indonesian island provides the perfect setting for any bride and groom to confirm their love for each other, and to start their life together as husband and wife.
The are many reasons why you should choose Bali for your wedding, but to simplify your decision-making process, we have narrowed it down to just 5. We are sure that when you read through these, your next action will be to start planning your Bali wedding day.
Reason #1: Bali Is One Of The Most Beautiful And Exotic Locations In The World, With Sunsets That Will Provide A Stunning Backdrop During The Evening's Festivities
Of all the reasons why you might choose Bali for your wedding, at the very top of those must surely be the fact that Bali is one of the most stunningly beautiful locations in the world. It has everything you could possibly wish in terms of scenery, including sandy beaches, mountains, waterfalls, and there is even a volcano. No matter how picturesque you might think your hometown is, it surely cannot compete with Bali's kaleidoscope of colours and visual beauty.
Reason #2: Bali Has Plenty Of Stores, Vendors, And Businesses That Can Provide Everything You Need For Your Wedding
One concern that many couples have when considering having their wedding in Bali, is how and where they are going to buy or rent everything that is needed to have a wedding. The list is almost endless, but includes a venue, accommodation from www.easybalivillas.com, food & drinks, the wedding cake and possibly even the bride's dress. Fear not, because Bali has a multitude of stores and vendors who can provide everything you need. There are even companies who can help arrange everything as a package.